Gold Filled or Plate Hamilton 900 Wind Up
Prices: Minimum 911 Average 911 Maximum 911

To see a particular watch in more detail, click on its picture.
---
1 item found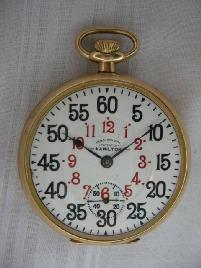 Hamilton -
19j, #900 ,adj 5 pos
[movement]
,
excellent+
12s Hamilton hinged case with dust cover, inscription on dust cover dating to 1925, and initials WGY engraved on back
[back]
.
excellent
Double sunk enamel Ferguson dial, small chip at 44m, blue steeled hands, subsidary seconds.
From 1921 a Hamilton "900" with a very scarce Ferguson dial, this is the first one I have seen in a 12s watch , a good find for a knowledgable collector.
(Ref rm364)
$911 - SOLD (2/17/2008)
1 item found
---